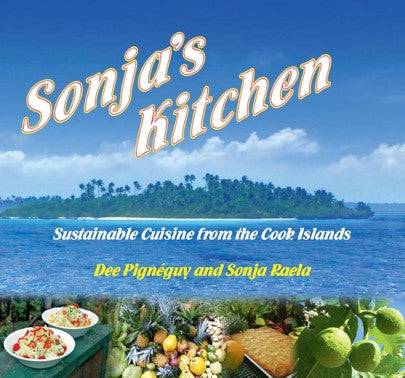 Sonja's Kitchen by Sonja Raela and Dee Pignéguy
$39.99
Delicious, mouthwatering, luscious, delectable. . . are there enough superlatives to describe the food from Sonja's Kitchen? These remarkably simple dishes are replete with healthy vitality and infused with flavour. Based on traditional, nutrient-dense fresh fruits and vegetables, poultry and seafood, with accents of ginger, lime, lemon, basil, garlic and coconut, Sonja's dishes excite the palate.
This is sustainable cuisine!
All over the world people are searching for better ways of growing food and sustaining life. On the South Pacific Island of Aitutaki, Sonja and Tauono relied on their organic plantation and vegetable garden to supply fresh fruits and vegetables for Tauono's Organic Garden Cafe, putting ecologically sustainable theories into practice.
But for many, it is all a matter of taste!
"Mouth-watering, imaginative and simply divine. Aitutaki's freshest and tastiest food. So good you'll have to come back for more." - Tanya, Hamilton, New Zealand
Now, for the first time, many of Sonja's recipes are accessible to all. Based on ingredients available in most supermarkets, you can make these delectable dishes in your own kitchen. 
But this is not just a cook book. It is also a book that takes the reader on a walk through the lush vegetation of the Cook Islands, while explaining the importance of each plant to the survival of the islands and the role that they play in island culture. Foodie or Greenie, come and explore the food plants of Aitutaki and the Cook Islands.
Paperback | 240 x  225mm | 978-0-9582966-5-6 | 1 October 2011 | Non-fiction, cuisine, cooking, ecology, sustainability  | 128 pages   |   index