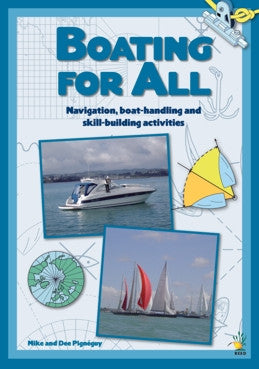 Boating For All by Mike and Dee Pignéguy
$19.99
Take boating fun to the next level with this easy to understand guide, the indispensable Boating For All.
Following on from Boating Fun, respected authorities on all things boating Mike and Dee, take sailors who have mastered basic sailing skills to the next level. With years of sailing and teaching experience, the authors write with integrity and a clarity that makes what can be a confusing array of information understandable.
The book includes information on charts, plotting courses, meanings of the various signals seen on the water, boat maintenance, boat handling, safety issues and much more. Activities for testing skills are also included; practice makes perfect as getting something wrong on the water can often be disastrous. One of the main aims of the book is to have the reader become more knowledgeable on the basics of boating, and not have to rely upon electronics for their navigation.
Mike and Dee Pignéguy have been involved in sailing for most of their lives. Mike's family home from the age of four was a boat, and he often crewed for his father, who was a professional yacht skipper.
Mike joined the British Merchant Navy a week after his 16th birthday and at age 25 he was sailing as Chief Officer. Since marrying in 1965, Mike and Dee's lives have been based around ships and boats, including buying the 1909 30m Te Aroha in 1984 and operating her as a charter and cruise boat for 16 years, becoming a familiar sight as it took its passengers sightseeing around the New Zealand coastline. Although land-based now, Mike freelances worldwide as a skipper on a wide variety of commercial vessels and superyachts and is an accredited Coastguard and RYA Tutor. They both still spend an enormous amount of time together on the sea, in their own yacht, and acting as crew on an array of sailing vessels. Mike and Dee are based in Auckland.
Paperback | 298 x  210mm |  132 pages | ISBN 978-1-86948-413-2 | 2007 | Non-fiction
Distributed by Papawai Press on behalf of the authors.